Martha Konje
Chairperson, Department of Biological and Environmental Sciences
Email: mkonje@kibu.ac.ke
Message from the Chairperson
Welcome to the Department of Biological, Environmental and Natural Resource Management. The department is housed in the Faculty of Science. The department caters for the needs of the student's ranging from undergraduate up to post-graduatelevel. The department offers courses in the field of Biological Sciences, Environmental Sciences, Natural Resource Management and Health Sciences. The department also services other departments and faculties among them Faculty of Education and Social Sciences, department of Agriculture and Veterinary sciences and department of Science, Engineering and Technology. The department has competent academic and technical staff, equipped laboratories and state of the art facilities for teaching and research work.
The Objectives of the Department:
To teach , train and produce quality graduates
To promote quality education by offering academic programmmes based on societal needs
To promote linkages and partnerships both with local and international institutions
To engage in scientific research and innovation to address societal challenges
To actively participate in community services and liaisons to disseminate knowledge and promote national cohesion and integration
Courses Offered:
Bsc. in Biology
Bsc. in Bioresource Conservation and Management
Bsc. in Environmental Sciences
Msc. in Zoology
Proposed Courses To Be Offered:
Bsc. in Biotechnology
Bsc. in Conservation Biology
Bsc. in Microbiology
Bsc. in Forensic Science
Msc. in Environmental Sciences
Msc. in Natural Resource management
Msc. in Microbiology
Msc. in Botany
Msc. in Fish Biology and Aquaculture
Msc. in Immunology
Msc. in Applied Entomology
Msc. in Medical Parasitology
Proposed Diploma and short Courses
Diploma in Applied Biology
Diploma in Science, Laboratory and Technology
Diploma in Wildlife Management and Conservation
Diploma in Community Health
Short course (6 months) in Environmental Impact Assessment
Bridging in Biology (3 months) course
Contacts
Department of Biological and Environmental Sciences
P.O. Box 1699—50200
BUNGOMA – KENYA
Location: Bungoma
Country: Kenya
Telephone Number: 0202028660/0708085934
Email :deptbes@kibu.ac.ke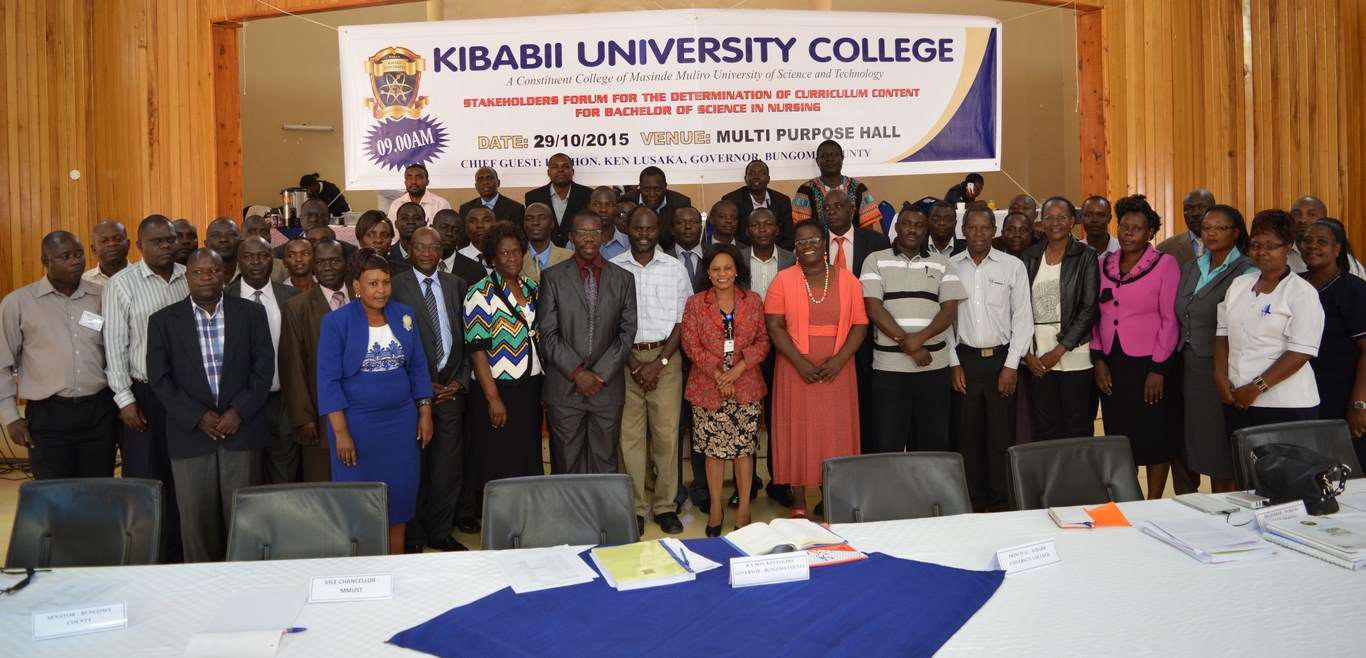 Kibabii University (KIBU) is preparing to offer Degrees in Nursing. The University joins University of Nairobi; Moi University; Kenyatta University; Masinde Muliro University of Science and Technology; Mt. Kenya University, University of Central and Eastern Africa- Baraton as core capacity builders in Nursing Education at Degree level. A Stakeholders' forum for the discussion of this programme was held on Thursday October 29, 2015, at the spacious multipurpose hall of KIBU and brought together senior officials in Government, Academic and Private Sector. Speaking during the event, The VC Prof. Ipara Idero, reiterated the need for enhanced capacity building in the nursing profession.