Dr. Makokha John Wanjala
Chairman, Department Of Science, Technology & Engineering
Email:makokhajw@kibu.ac.ke

Greeting and friendly Welcome to the Department of Science, Technology& Engineering. This is an active department within the Faculty of Science at Kibabii University. We are at the forefront toward the realization of our vision- To be a global and dynamic University of excellence in Science, Technology and Innovation. The department works jointly with three other Departments of the faculty of Science, as well as the department of Science Education, under the faculty of Education, in the training of innovative science teachers taking courses in Physics, Chemistry, Biology and Agriculture. The department has more than ten postgraduate students enrolled in various courses. We project an enhanced number of enrollment in the academic year 2016/2017. The department is forming several collaborations with institutions with similar visions and interests for the benefit of students and to be abreast with the dynamism of knowledge in other regions and sectors.
Contacts
Department Of Science, Technology & Engineering
P.O. Box 1699—50200
BUNGOMA – KENYA
Location: Bungoma
Country: Kenya
Telephone Number: 0202028660/0708085934
Email : deptste@kibu.ac.ke
Kibabii University, Faculty of Science, department of Science, Technology and Engineering has acquired new Chemistry laboratory equipment. These laboratory equipment were installed on 12th March, 2020 in the Chemistry Lab. They were:
Rotary Evaporator
Graphite Block Digester
Laboratory Water Purification system
Double Beam UV-vis Spectrophotometers
Flame Photometer
This comes as a boost to the University in enhancing discovery of new knowledge and skills for addressing the scientific, socio-economic and technological concerns nationally, regionally and internationally.
| | |
| --- | --- |
| Flame Photometer | Laboratory Water Purification System |
| Double Beam UV-vis Spectrophotometers | Graphite Block Digester |

Rotary Evaporator
Faculty of Science (FS) held a successful two days Stakeholders Workshop for the new academic programmes (Diploma, Bachelors, Masters and PhD) on 26th -27th November, 2019 at the Multi-purpose hall.  The workshop was declared opened by DVC (Academics and Students Affairs), Prof S. Shibairo. In attendance was Ag. DVC (Administration, Finance and Development) Prof. Siamba. The theme of the workshop was "Current Trend in training of Science, Technology, Engineering and Mathematics (STEM) Professionals".
Keynote speakers made presentations of the various programmes:
Betty Mayeku, CECM, Education and Vocational Training, Bungoma County
Betty Osumba, TVETA
Benard Makokha Willis, KIRDI
Onesmus Makhanu, Director of Agriculture, Bungoma County
The workshop was attended by over 100 stakeholders from 34 different research institutions and industries.
2019/2020 first year students during the Faculty of Science (FS) orientation forum led by Dr. Lucy Chikamai. Students were introduced to faculty lecturers and faculty functions, services and procedures. The event took place on 18th September, 2019 in Auditorium C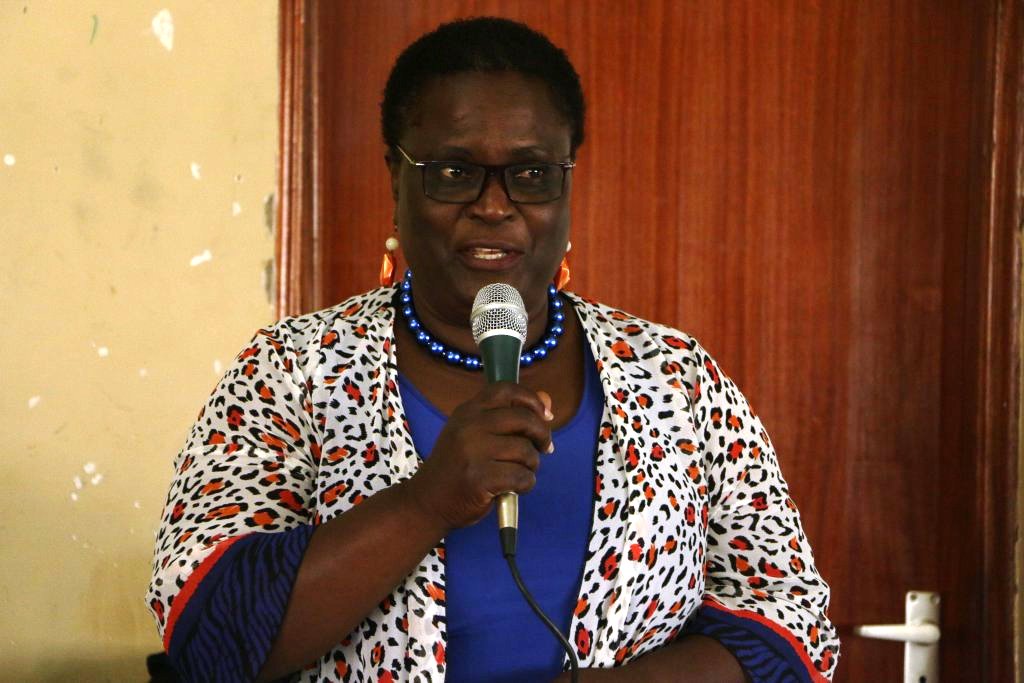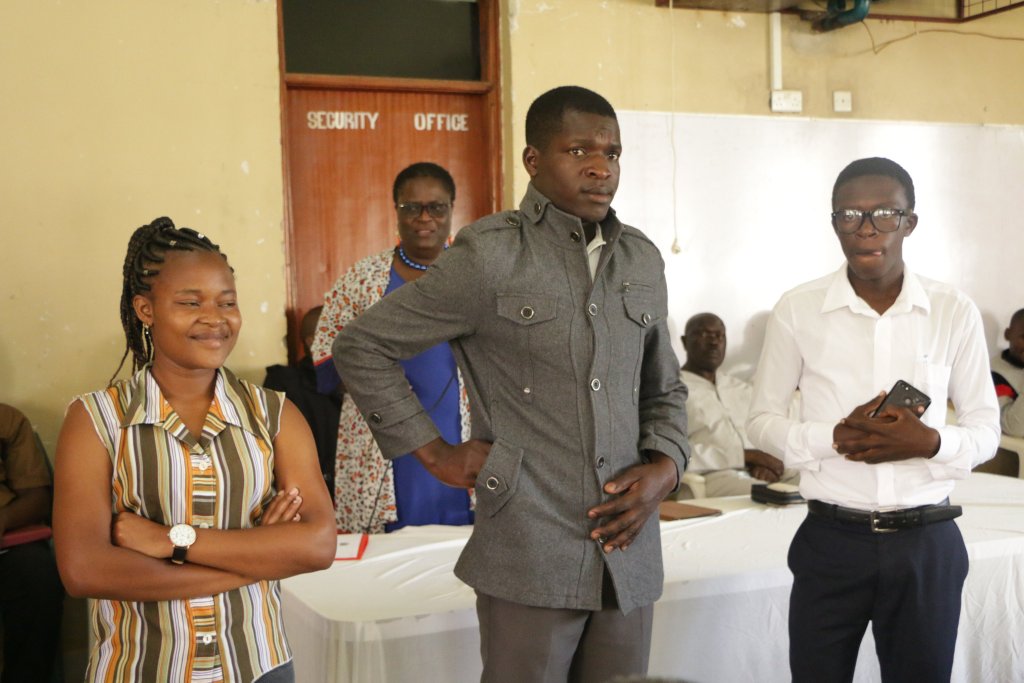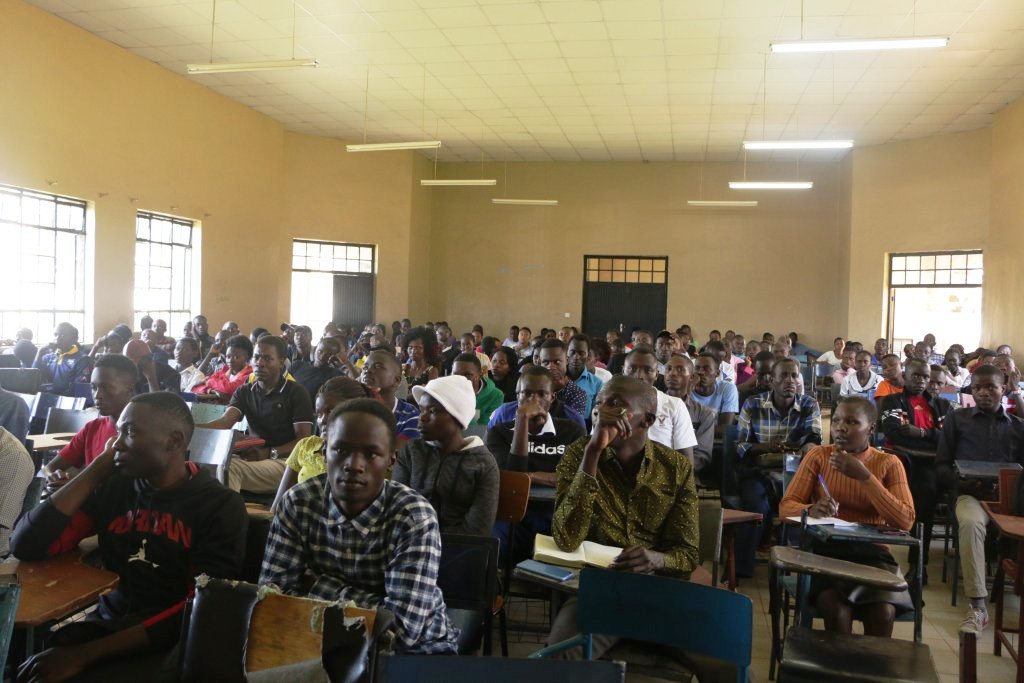 Kibabii University in pursuit of its Vision to be a Global and Dynamic University of Excellence in Science, Technology and Innovation, wishes to invite applications from suitably qualified candidates for the following vacant Part Time Positions in the indicated departments:
VACANT POSITIONS:
Professor
Associate Professor
Senior Lecturer
Lecturer
Tutorial Fellow
Senior Technician
Technician
Instructor
Applicants for teaching Masters and PhD Courses must be PhD holders in relevant areas.
APPLICATION PROCEDURE
Applications with copies of academic certificates and curricula vitae should be addressed to:
The Deputy Vice Chancellor (Academics and Student Affairs)
P.O. Box 1699-50200
BUNGOMA
Tel. No. 0708085934/0734831729
 DEADLINE
Applications should be submitted by Friday 16th August, 2019 at 5.00 pm.
We have all gathered here to mourn someone who means many different good things to each person in the gathering. He has answered the call to join those who have gone ahead of us.

The Ibo saying captures this inevitable fact appropriately in a proverb which says: Every piece of iron is destined for the smithy. In Arabic this is stated as:  Inna lilahi wainna ilayni rajiun. In English it simply means: From God we have come and to him we shall return.

Our hearts go out to the family and friends. We are all hurting over the loss. But the family feels more pain. This is because it is not easy to withstand the loss of a person of this stature. The cost of training an individual to this level is huge. In return their contribution is immeasurable. Dr. Oloo has passed on at a young and formative stage in his life and career yet he had already made great contribution. The value of his full potential had he lived on cannot be estimated.


I wish to share some of his virtues.
Dr. Jared Peter Odhiambo Oloo was an outstanding man.

He was first and foremost a   teacher and lecture of great skill and understanding. A number of his students are serving this great nation in different capacities.

Until he departed, he was Chairman, Department of Science, Technology and Engineering. He did a superb job during his stint as academic and administrative head where he provided excellent mentorship for young faculty and students. His unique style of inclusiveness and impartiality in running the department was exemplary.

He was a scholar of repute. His Intellectual and professional rigour can be seen in his publications and was manifested in his coherent reasoning. He had cut a niche in the field of Theoretical Physics where he concentrated in the area of Superconductivity. His research ventured in areas that had direct practical value to society.  A case in point is his research topic for Masters degree which explored "Effects of varied Magnetic intensifies and exposure time on germination of Rosecoco beans." He disseminated his ideas through publications and professional bodies. Up to his final day, he was Member of Kenya Physical Society and Kenya Society of Electric and Electronic Engineering

At a personal level, this was a versatile large hearted gentleman who communicated fluently in four languages. This was a brilliant man with strong opinions but also straight forward.

Dr. Oloo was a person with caring temperament; Very lively, lovable, likeable and supportive.

His fellow Auditors at the University remember him for his fun and funny witty remarks. In his CV he boasts of being a very good time keeper, a man of his word and actions.

This was a valuable member of KIBU. So our hearts are saddened by the loss.

Though he may be dead, his kindness, humility and ideas will never be forgotten.

Fellow mourners, here lies great man. Let us emulate him so that when we die, history, humanity, and by extension God will be kind to us.

Fare thee well comrade Dr. Jared Peter Oloo Odhiambo, PhD.

Prof. Isaac Ipara Odeo,

VICE CHANCELLOR
Kibabii University held its 3rd Graduation Ceremony on 23rd November, 2018 at the Graduation Square. The colorful ceremony was presided over by Ambassador (Dr.) Amina Mohamed, Cabinet Secretary, Ministry of Education on behalf of the Chancellor, H.E. Hon. Uhuru Kenyatta.
1704 graduands were awarded with doctorates, degrees, diplomas and certificates in various fields; Doctorates 6, Masters 26, Bachelors 1314, Diplomas 302 and Certificates 56.
Faculty of Science had: 2 Doctorates, 6 Masters and 122 Bachelors.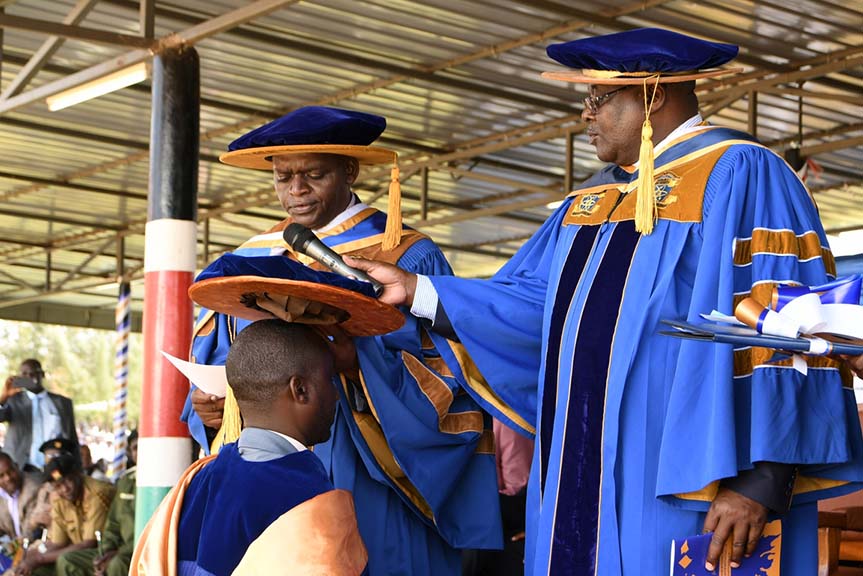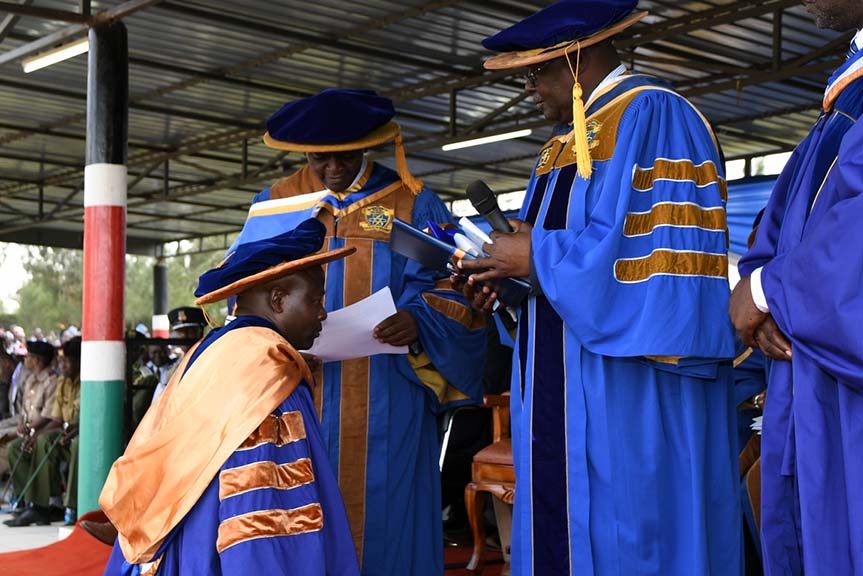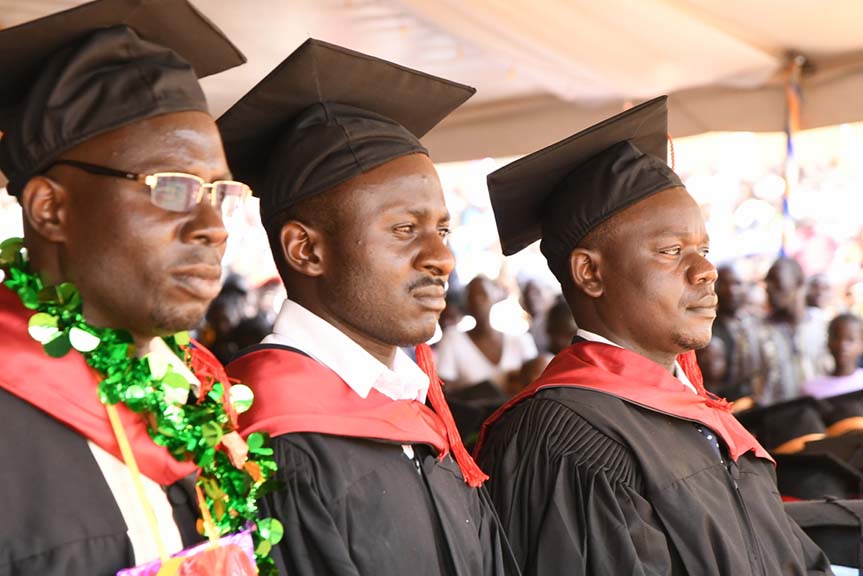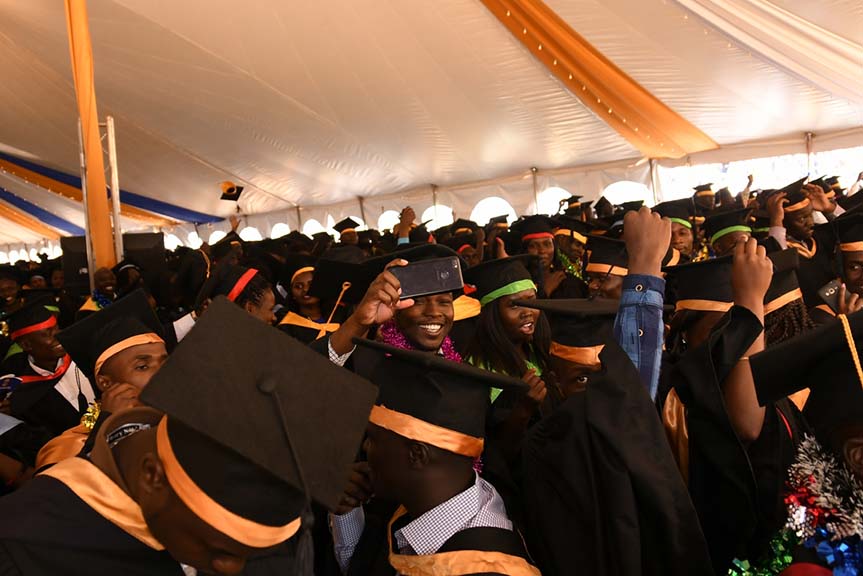 Students Insurance Covers for Bachelor of Science in Renewable Energy & Bio-Fuel Technology Class
Please download and print the specific page on which your name and student registration number appears. Example: IF your details are on page 10, go to File MENU, Print, Under Pages to Print Section choose Pages and type page number 10 in the provided text box
Download: Students Insurance Covers for SMA/14 Class
The Faculty of science was honoured to have three of it's members graduate with PHDs. In the most recent graduation Ceremonies,Dr.Kefa  Osolo Nyende and Dr.Jared Odhiambo Oloo qualified for the award of this prestigeous Degrees at Masinde Muliro University of Science  and technology while Dr.John Makokha Wanjala  was awarded at the University of Nairobi. Dr.Kefa Nyende is a lecturer and Chair, Department of Agriculture and Veterinery Sciences  while Dr.Jared Oloo  is Heads Department of Science,Technology and Engineering.Dr.John Wanjala doubles up as Lecturer and examination Officer.The Faculty wishes them well in their endeavours.
Science, Technology and Engineering Links