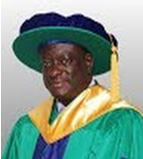 Welcome to the Department of Mathematics. The Department of Mathematics is housed in the Faculty of Science. The department caters to needs of the student's ranging from undergraduate level up to post-doctoral researchers. Undergraduate Courses lead to a B.Sc. in Mathematics degree. We also service courses in Education leading to a B.Ed.(Sc) degree in Mathematics. The post-graduate courses offered lead to the disciplines of pure Mathematics, applied Mathematics, and statistics. The particular courses and course requirements, including examinations, will be uploaded on the University website:
Career prospects:
Many people ask the question "what can I do with a Mathematics degree?" In today's information overload world, people are confronted with a maze of numbers and data of various forms. To make sense out of this, a knowledge of Mathematics is essential. The power of Mathematics derives from its ability to handle general abstract problems and apply the general methods to a variety of problems.
Mathematics is the language of Science and at the heart of today's advancement in Science and technology. It also contributes to progress in other fields like industrial and architectural design, economics, biology, psychology etc. Here are just but a few areas where a Mathematician may work.
Actuarial, Business and Finance; Computer and Information Sciences; Statistics; Teaching and Academic research and emerging fields like Biotech, Data mining, and Neuroscience etc. In Kibabii University, we recognize the importance of Mathematics and shall strive to provide a conducive environment that will ensure students confidently engage actively in complex mathematical tasks and contribute to knowledge that will help solve life's problems.
Our Motto: If you strive for mediocrity you are doomed to achieve it
We hope you enjoy your journey of Mathematics with us.
Contacts
Department of Mathematics
P.O. Box 1699—50200
BUNGOMA – KENYA
Location: Bungoma
Country: Kenya
Telephone Number: 0202028660/0708085934
Email : deptmat@kibu.ac.ke